'A Brush with Song'
May 25th-27th 2012

Come and take part in a creative blend of singing and painting, in the stunning setting of the North Antrim coast. As well as facilitated sessions each day, there will be free time to explore the stunning surroundings, walk by the sea, or just relax! Gourmet food provided by Crusoe's of Castlerock. Special diets catered for.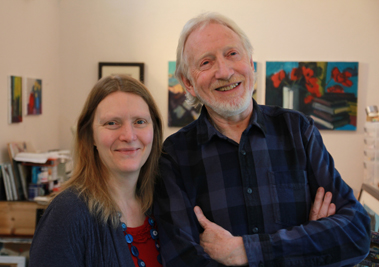 Brian Ballard
is a leading Irish Artist, who will lead the group in painting with oils and/or acrylics. He will encourage everyone to express themselves, either outside, inspired by the beautiful landscape, or inside painting still life. He is an inspiring teacher, who would welcome those with or without experience of painting.
Kate Fletcher
has been running regular singing workshops for over twenty years. She believes not only that anyone can sing, but that everyone has a right to give voice. With a range of songs from around the world in harmony and by ear, the singing is accessible to those with lots of experience or none.
Both Kate and Brian are experienced teachers in their field, and are committed to opening up their sphere to all. So if you are an experienced singer new to painting, an expert artist new to singing, or just like the sound of a weekend of creativity and enjoyment, then this is for you!
Location:
The weekend will based in Downhill where accommodation will be provided at the Victorian residence 'Glenhassan Hall', now known as the Downhill Hostel, a beautiful self-catering guesthouse on the Downhill beach.
Accommodation
will be in shared rooms, mostly shared in twos, but to a maximum of three.
Cost
per person sharing:
£250 residential including meals
£160 non-residential including afternoon and evening meals
Arrive 7pm Friday 25th
Depart 2pm Sunday 27th
What to bring:
Enthusiasm!
Outdoor clothing and shoes for painting outside
Your own painting materials if you have them –or materials can be ordered ahead of the weekend (see below). Additional canvasses will also be available for sale.
Please contact Kate and Brian or print and complete the form below, and send with a £50 deposit (payable to Brian Ballard) to
Brian Ballard and Kate Fletcher
53 Kensington Road
Belfast BT5 6NL
For more information or queries, tel 028 90 796697 or email ballardfletcher@btinternet.com
Booking Form A Brush with Song, Glenhassan Hall. 25-27 May 2012
Please reserve me a place on the Glenhassan Hall weekend, 25th – 27th May. I enclose a cheque for £ 50 deposit
Name:
Address:
Contact telephone numbers:
Email:
Special Dietary needs:
Residential / Non-residential (circle one)
I will bring my own materials,/ including sketching easel-please bring if you have one
or: I would like to purchase paints and canvas, and borrow easel (circle one)
Other relevant information or special circumstances which we should know about in order to make your weekend as enjoyable as possible: