These open cast glass platters came out of a series of experiments with kiln casting on sand. I wanted to use recycled glass to create my own forms inspired by some of my treasures from beach combing. So with sea-glass and tiny shells in mind I started testing combinations of silica sands as a casting bed. I wanted a mixture that would hold fine detail of actual seashells pressed into the sand yet wouldn't stick to the glass when molten.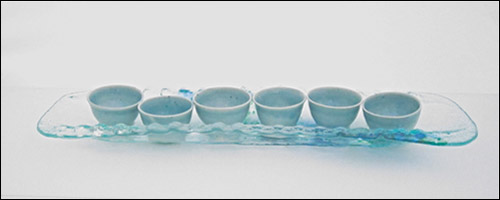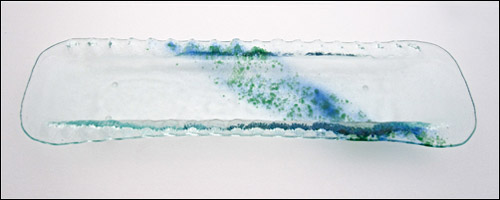 After extensive experimentation I found a blend of particle sizes that would work. The detail in the platter rims is created by shells from my beach gently impressed into the sand bed with tweezers and then removed. The sheets of glass are then slumped at casting temperatures over fibre molds I created then embedded into the sand bed inside the kiln. The glass picks up some texture from the sand as well giving a very marine feel to the piece.
The bands of colour are created with coloured glass gravel and sands sieved over the main sheets of glass that create the body of the piece. I made delicate thrown porcelain cups reminiscent of the limpets and cockles cast into the rims which can be used for serving nibbles or sauces. The sets are made to be used as well as admired, food served on the long thin platters looks very sophisticated, and the more portrait proportioned pieces can be used as individual plates as well as serving pieces.